Pour le final de Breaking Bad, une grande partie de la communauté des serievores  a attendu frénétiquement l'épisode final. Mais il a fallu 5 ans à la série pour créer un tel phénomène. Pour True Detective, il a fallu quelques semaines seulement pour que le phénomène prenne une ampleur considérable. Plus de 10 millions de spectateurs ont regardé l'épisode final lors de sa diffusion sur HBO. La plate-forme de streaming de la chaine a également planté (du jamais vu, malgré les diffusions de Game Of Thrones, autre série évènement de la chaine. Enfin, le hashtag #truedetectivefinale s'est positionnée dans les plus fortes tendances sur Twitter le jour de la diffusion du huitième et dernier épisode de la saison 1, intitulé "Form and Void".
A quoi est-dû cet engouement ? La renaissance de Matthew McConaughey, tout juste oscarisé pour son rôle dans Dallas Buyers Club, n'y est pas pour rien, c'est sur. Mais il y a autre chose. Les médias et les internautes l'ont tout de suite, après seulement quelques épisodes, placée au panthéon des meilleures séries de tous les temps, aux cotés de Twin Peaks ou bien sur Breaking Bad.
Même si l'enquête policière est bien menée, même si l'ambiance, digne des plus grands polars, est fabuleuse, la vérité est ailleurs. Si ce n'était que ça, ce ne serait qu'une version allongée de films comme Seven, Zodiac ou le récent Prisoners. Mais True Detective se positionne ailleurs. Ce qui en fait une œuvre à part, ce sont ses personnages principaux, en particulier Rust, et les nombreuses thématiques qu'ils permettent de développer.
Analyse de la série et de ses nombreuses thématiques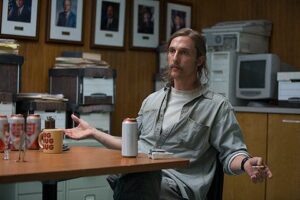 Nic Pizzolatto l'a dit lui-même, "Je ne suis pas du tout intéressé par les tueurs en série". Et moi-même, je n'en avais pas grand-chose à faire de savoir qui était le tueur lorsque je regardais le show. D'ailleurs, l'épisode 6, celui-qui se consacre vraiment le plus sur l'avancée de l'intrigue, est le plus faible de tous.  Je sais que plein de gens ont fait des théories sur le crime, mais ce n'est pas ce qui m'a vraiment captivé dans le show, donc je mets ça de coté pour le moment.
Ce que je voulais, ce que j'attendais de chaque épisode, c'est « boire » les monologues de Rust, découvrir ses idées et comment elles se confrontaient au monde qui l'entoure. Un monde glauque, malsain, faible, lâche, mais un monde réel. Je voulais aussi voir comment allait évoluer le personnage d'Hart, plus conventionnel mais pas inintéressant. Et je pense aussi que c'est ce que l'auteur Nic Pizzolatto voulait. C'est bien pour cela que la série ne s'arrête pas à Carcosa, l'antre du tueur Errol. Non, nous avons droit à un magnifique épilogue, qui nous offre de nouvelles paroles de Rust et qui s'intéresse à la relation entre lui et son collègue Hart. Je ne vais pas traiter de toutes les thématiques que l'on peut voir dans True Detective, mais seulement celles qui m'apparaissent comme les plus importantes. Libre à vous de prendre la parole par la suite pour partager votre point de vue.
Série religieuse ou anti religieuse ?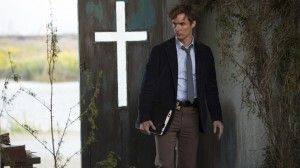 Et si on disait les deux ? Certains ont vu dans cette série un jugement extrêmement cirtique de la religion. Dans le troisième épisode, Rust se demande notamment quel est le QI des gens assistant au sermon. On sait également que le révérant Tuttle est impliqué dans les crimes commis. Pourtant, à la fin, Rust a retrouvé une certaine foi (en la vie et en l'humanité) et devient même une figure christique. Pourquoi retrouver à la fois ces deux approches dans la série ?
Tout simplement parce qu'il ne s'agit pas d'une série pro-religion ou anti-religion, c'est une série qui n'hésite pas à montrer les pires aspects de nombreuses choses, y-compris la religion. Et la fin en fait plutôt une série… on va dire « spirituelle ». Tout au long des 8 épisodes, on est séduits par les propos philosophiques de Rust, mais eux aussi ont leur limite, eux aussi sont représentatifs, si ce n'est d'une certaine forme de bêtise, au mois d'une obscurité. Rust se voile la face sur lui-même et le monde qui l'entoure.
Page suivante : Misogynie, bromance et conclusion
Ajoutez vos théories et analyses de fans en commentaires ! Nous les lirons, promis !!!